From Leather Seat Installation to Customized Designs, Our Car Upholstery Service in Dubai has Got You Covered! Professional & Experienced Auto Upholstery Technicians. 
Royal Tech Auto Services is offering a complete and professional Car Upholstery Service in Dubai for those looking for a unique Car Interior and upholstery change. The Royal Tech Auto Service Experts offer Pre-designed and Custom Design Making Upholstery solutions for your car's interior. Nonetheless, from something as simple as Installation of leather, or conversion of Fabric Seats to Leather to sunroof liner, and seat Channels repair and Replacement, bring your car to the Royal Tech Auto Garage for a Conspicuous Car Upholstery Service.

We cover every service related to your Car Upholstery in Dubai
Leather Seats (Repair & Custom Design Making)
Whether you have a leather seat design in your mind or looking to repair the existing leather seats, our upholstery experts can meet your desired needs. Our custom leather seat manufacturing and installation department will completely transform the interior look of your car, including seats, door panels and console covering!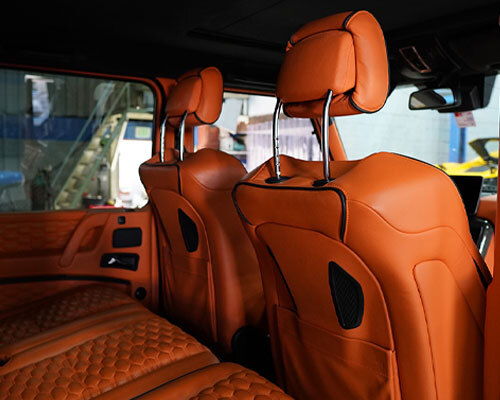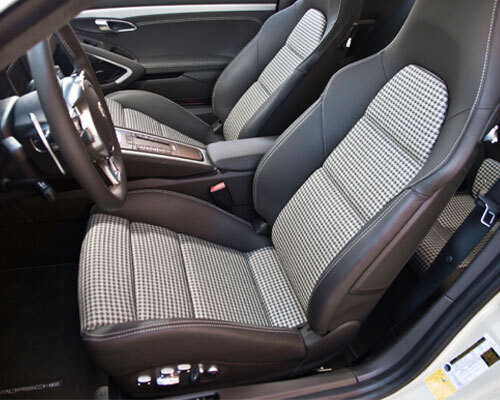 Fabric Seats (Repair & Custom Design Making)
We have a special upholstery department with the experienced task force, ready to design customized interiors using fabric seats. We can repair the fabric seats and also replace with new fabric sheets of customers choice. Just share your design ideas or leave it at our upholstery experts in Dubai
Conversions From Fabric To Leather Interior
Over time, you might get bored of your car's interior fabric seats. Its time to replace the fabric seat with the leather Interior! Royal Tech Auto Services is your upholstery partner, rest assuring to smooth finishing and high end upholstery work always.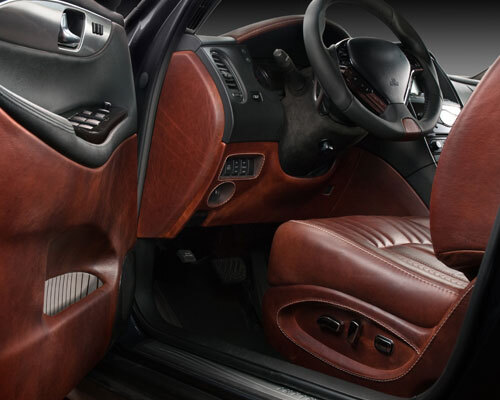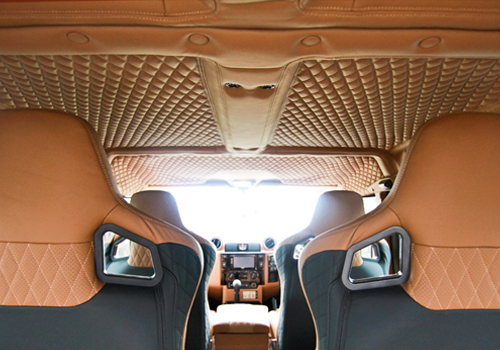 Roof liner (Repair & Replacement)
A torn roof liner is killing the look of your exotic car. Its time to either repair the roof liner or replace it with a new design with the help of Royal Tech Upholstery Department in Dubai. We can create any type of custom design according to your demands.
Window Curtains ( Repair & Replacement )
Improve your car privacy, cool down the interior temperature and enhance the look of your exotic car with window curtains replacement. We also provide window curtain repair service in Dubai at our Upholstery department.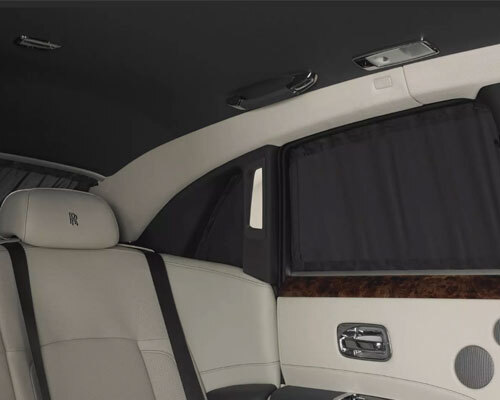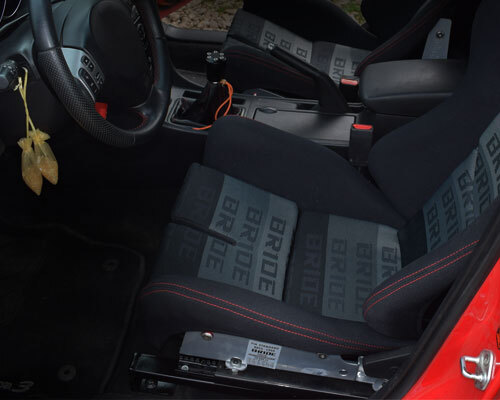 Seat Channels And Rails (Repair & Replacement)
Is your seat making an unusual sound while pushing/sliding backwards? It's time to repair or replace the seat channels and rails. Don't even delay for long as this can break the seat back locks, resulting in expensive repair and replacements. 
Steering Covers ( Custom Designs)
You hold your steering for a maximum time while driving. So why don't you turn the ordinary steering into a beautiful one with our custom design steering cover service in Dubai? Have an idea for your steering cover, just share with our upholstery experts in Dubai!
Dashboard Repair & Painting
Make your car look smart and interior aesthetically beautiful with dashboard repairing and painting service. We make sure to deliver smooth finishing and connects with interior dashboard paint with the overall car's look!
Dashboard Leather (Repair & Replacement)
Tired and bored of a regular car dashboard look? Well kist let us repair or replace with leather dashboard which will not only improve the look of car interior but also increases the resale value of your vehicle!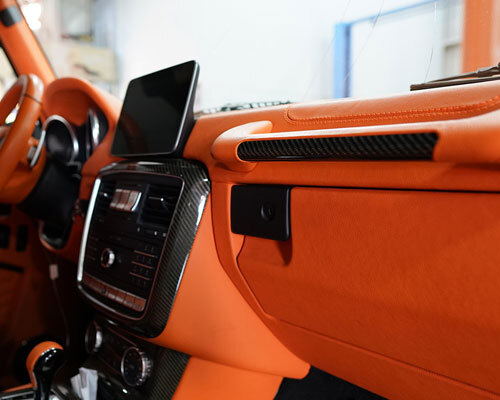 Starliner
Make your car interior roof portrays stars at night in the sky. This will display the star's graphics in multiple modes, wirelessly controlled, and come with a warranty.  It's time to give your vehicle a unique exclusive interior look.
Roof Lifting
Our Rooflifting service includes cleaning up the dirty fabric, replacing of headliner material, custom designing and installation of headliners, restoration of sagging headliners and much more.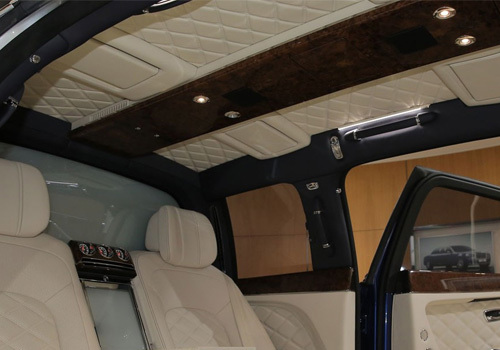 Seat Belt Rewebbing
Our re-webbing service is designed to customize the car sat belts according to your car's interior. Our Upholstery experts also replace and repair frayed and damaged seat belts and much more…
Carbon Fiber
We do Carbon Fiber Installation & Repair for all exotic and luxury cars. It will increase value, give a sporty look to your car and make its appearance unique & exclusive.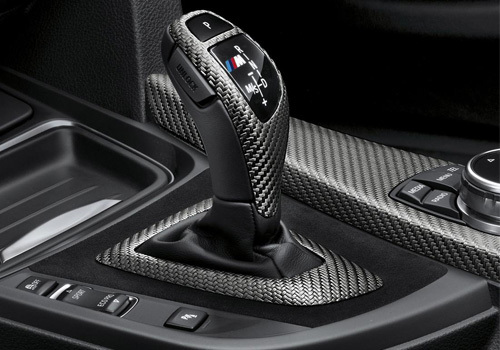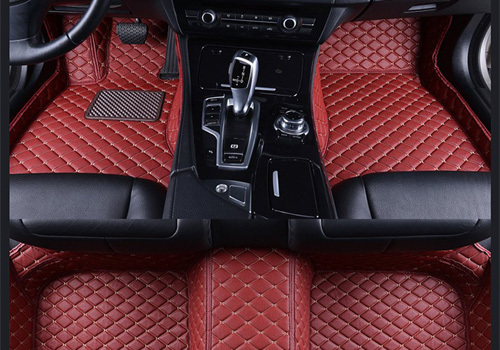 Carpets
Tired and bored of a regular car look? It's time to Replace the old Car Carpets with the new ones and resonate with your car interior look
Luxury, American, German, British, European, Exotic, Classic & High-End Japanese Cars Repair & Service Center.
A Complete Range of Car Upholstery Service in Dubai 
Do you want to sell your car at the best price or run a fleet of car rentals? The aesthetics of the car's interior, as well as the exterior, matter. The Royal Tech brings you an all-inclusive Car Upholstery Service guaranteeing to uplift your car's aesthetics. Our team of Expert Designers has developed a unique set of specialized upholstery techniques to help you reinvigorate the former glory of your vehicle. Whether you want Leather Seats Repair, Fabric Seats Repair, or Fabric to Leather Interior Conversion Service, our Car Upholstery Specialists will help you replicate the real you in your car's interior. We offer an all-inclusive range of custom designs and fabrics to create a welcoming interior that not only enhances the overall aesthetics of your car but also provides you deluxe comfort. Our Car Upholstery Experts bring their best to every upholstery service providing you with premium designs and upholstery repairs assuring to add value to your car. In all, our Car Upholstery Services help you add to the aesthetics of your car and rentals while upkeeping their value. So, what are you waiting for? Bring your car to The Royal Tech and feel the difference!