Largest Auto Repair & Service Center In Dubai
Is Your Steering Hard to Turn, making a Grinding Noise or leaking Oil, visit our workshop for Car Steering Repair and Service in Dubai
We have master technicians to repair and service your car's power and electric steering. Either it's about steering oil leakage or your car steering is making noise on turns, Royal Tech Auto Service is there to help you. We deal in all exotic, luxury and high-end car brands in Dubai, assuring to fix every steering issue and promising to make it smooth and error free. 
Talk to Our Service Advisor For An Expert Service Advice! +971 56 267 4343
Free Car Pickup & Delivery
Advanced Computer Diagnostics 
Honest Video Inspection Report
Affordable Cost
Genuine Parts
Free Estimation
Quality Control & Customer Feedback
Free Car Pickup & Delivery – Honest Video Inspection Report – Customer Satisfaction Guaranteed – Free Service Advice

We cover every service related to your Car Steering Repair in Dubai
Power Steering Service
Is there a grumbling noise when you turn the steering wheel or is the wheel slow to respond? Your power steering needs a thorough inspection. Call Royal Tech's Power Steering Service to help you diagnose the problem promptly!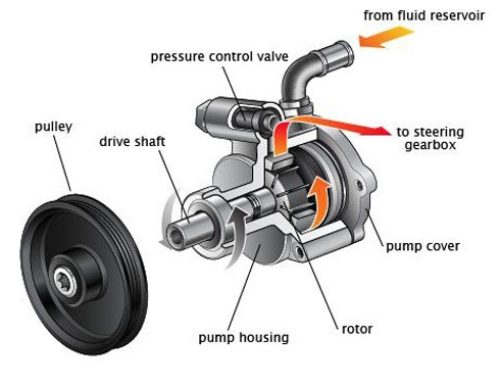 Hydraulic Steering Service
If your vehicle's steering wheel is getting stiff, or the car makes squeaking noises when you turn the key in the ignition, you're in dire need of a Hydraulic Steering Service. Bring your vehicle to Royal Tech Auto Services and steer clear to your destination again!
Steering System Inspection
Has your steering system gotten irresponsive recently, or do you want a steering system preventive maintenance service? Bring your vehicle to Royal Tech Auto Services for an all-inclusive power steering system inspection service!
Steering Rack Repair
Is your steering wheel feeling too loose in the hands, or is there excessive shake in the steering wheel even on a well-paved road? You have a broken steering rack. Bring your vehicle to Royal Tech Auto Services for Steering Rack Repair Service Right Away!
Steering Fluid Replacement
Is there a puddle of amber-colored fluid under the car, or the power steering is getting irresponsive? You need a steering fluid change and leakage repair service. Call our Expert Technicians for premium steering fluid change service now!
Power Steering Pump Repair
Is there a red-brown puddle underneath the car or a squealing noise every time you turn the wheel? Your power steering pump has gone bad. Bring your vehicle to Royal Tech Auto Services and relish optimal steering wheel performance right away!
Steering Wheel Alignment Service
Does your vehicle keep pulling to one side, or does the steering wheel crook while driving straight? It is time to get a Steering Wheel Alignment Service. Call Royal Tech's Expert Technicians to help you bolster the x-factory steering performance of your car once again!
Luxury, American, German, British, European, Exotic, Classic & High-End Japanese Cars Repair & Service Center.
Royal Tech offer a comprehensive solution to all Steering Problems
Are you having trouble navigating your vehicle even on a straight road, or is the steering wheel isn't as responsive as it used to be? You need not worry, as Royal Tech Auto Services bring you Professional Steering Repair Services in Dubai to help you relish a smooth ride over every mile. Be it the power steering services, electric power steering services, or the hydraulic steering services; our Expert Mechanics replicate their true prowess to every luxury car that enters our Auto Workshop. We meticulously disassemble the steering wheel before performing the necessary overhauls and changing the steering fluid, ultimately helping you navigate the sharpest curves with precision-crafted steering wheel performance. So Bring Your Luxury Vehicle To Royal Tech Auto Services & Get Back The Control Of Your Opulent Ride Once Again!